I always meant to add this on to my Parisian weekend blogs last year and never got around to it, so a little later here it is.
Ever since I can remember I have wanted a Chanel Classic Flap Bag, you know the ones, soft quilted leather, the double C clasp and chain straps. I think my obsession with Lauren Conrad and The Hills when I was 15 was to blame for this, it was the first designer item on my lust list and could only hope one day I might be lucky enough to own one too.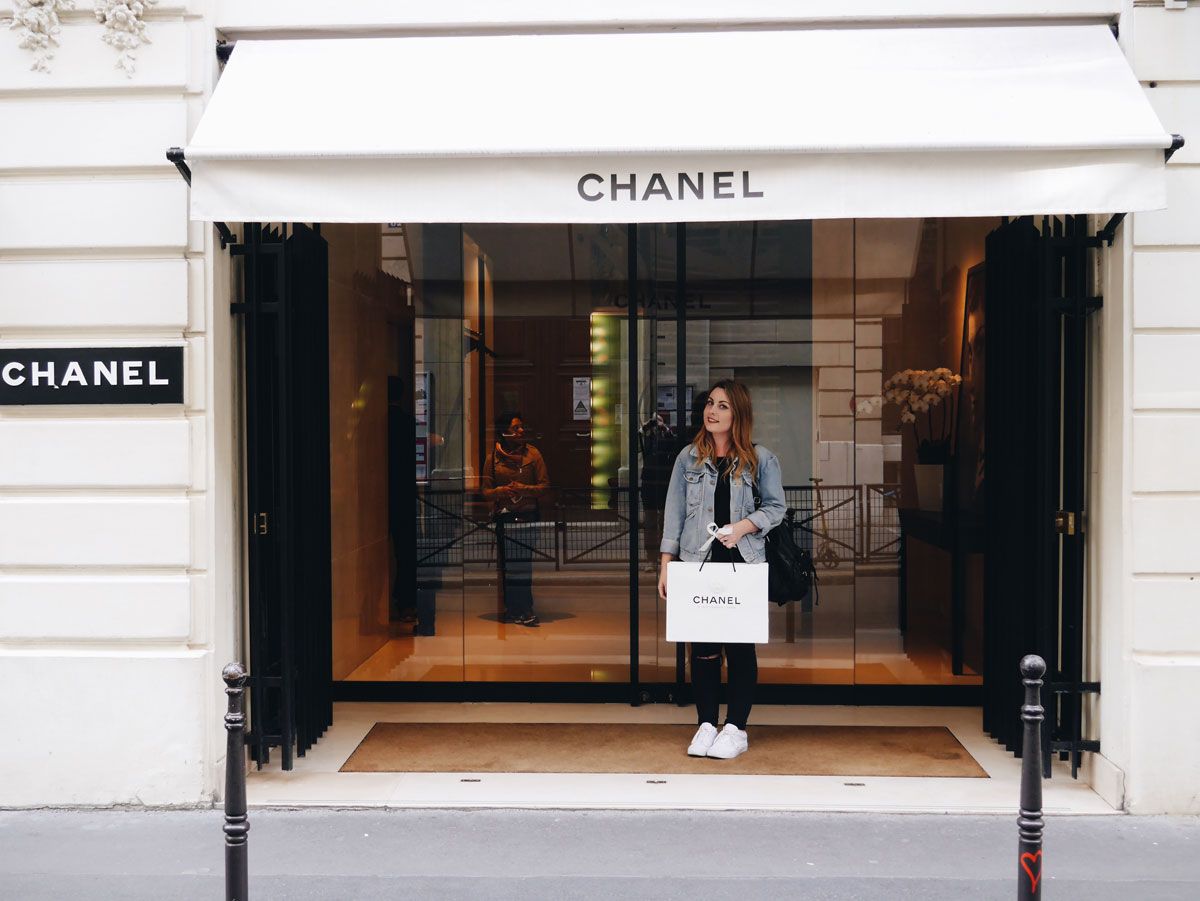 Fast forward 10 years and I was in a position where getting one of those bags could actually be a reality. I took my mum to Paris for a few days as a birthday/Christmas present and one of the places on my to see list out there was the famous Chanel 31 Rue De Cambon boutique.
For those of you who aren't aware of the importance of this store here's a brief lowdown. Gabrielle Chanel first made a name for herself creating hats and opened her first store at 21 Rue De Cambon in 1910, which she quick outgrew and then moved to 31 Rue De Cambon where it truly all began. Her line extended to accessories and the classic No 5 Perfume was born in 1921, followed by jewellery and beauty products. She truly made the premises her own, the ground floor was home to the boutique with stairs leading to the first floor fitting and collection showcasing area. A mirror lined staircase led up to her apartment (although she never slept there, she slept at the Ritz) and then the 3rd floor houses her studio, where Karl Lagerfeld still works today. The layout is still the same these days, but the boutique is now 5 buildings in size…
We walked to Rue De Cambon from the Louvre through The Tuileries and Carrousel Gardens taking in views of the Eiffel Tower – literally living the Parisian dream.
I was nervous excited going in, and as I was dressed in ripped skinny jeans, worn in vans and my dads old denim jacket I was considerably underdressed compared to the other shoppers. Straight away I head left to admire the famed mirror staircase, before exploring the boutique and making a b-line straight to the handbags.
The staff are super attentive and straight away an assistant comes over with an ipad (in a Chanel quilted case of course) to help me find the bag of my dreams, as all the display bags are from the current and upcoming seasons. Next thing you know it I'm stood in front of a mirror with over £3,000 worth of handbag on my shoulder… they didn't actually have the Classic Flap Bag in caviar leather in medium, so I tried the jumbo version. After a few minutes I gave the bag back and resigned myself to leaving the shop empty handed, unable to justify spending that much on a bag, despite psyching myself up to do so. Then all of a sudden I notice this bright pink jersey quilted bag with gold hardware, and rushed back to the assistant to ask if it was available in black… it was!! I had never seen this style of bag before but it was love at first sight, I even preferred it to the beloved leather classic I'd had my heart set on for so long. At a fraction of the price of the leather it was a no brainer, my Chanel dream was finally coming true!
We were taken upstairs to a waiting area and offered a selection of drinks whilst we wait for the bag to be boxed up. All of the tills in Chanel are in private rooms, nobody completes their transaction in public. You're called in when one is free and your assistant will be ready with your items boxed and bagged to go through the transaction process (not only did I look like a scruff, I'm sure not many other people stroll into Chanel and then pay for something with a fluffy Totoro coin purse…). I couldn't believe this was finally happening, when she handed over the white bag I'm sure I was just looking at my mum like 'oh my god, oh my god, oh my god', I'm so glad she was there to share the experience with me.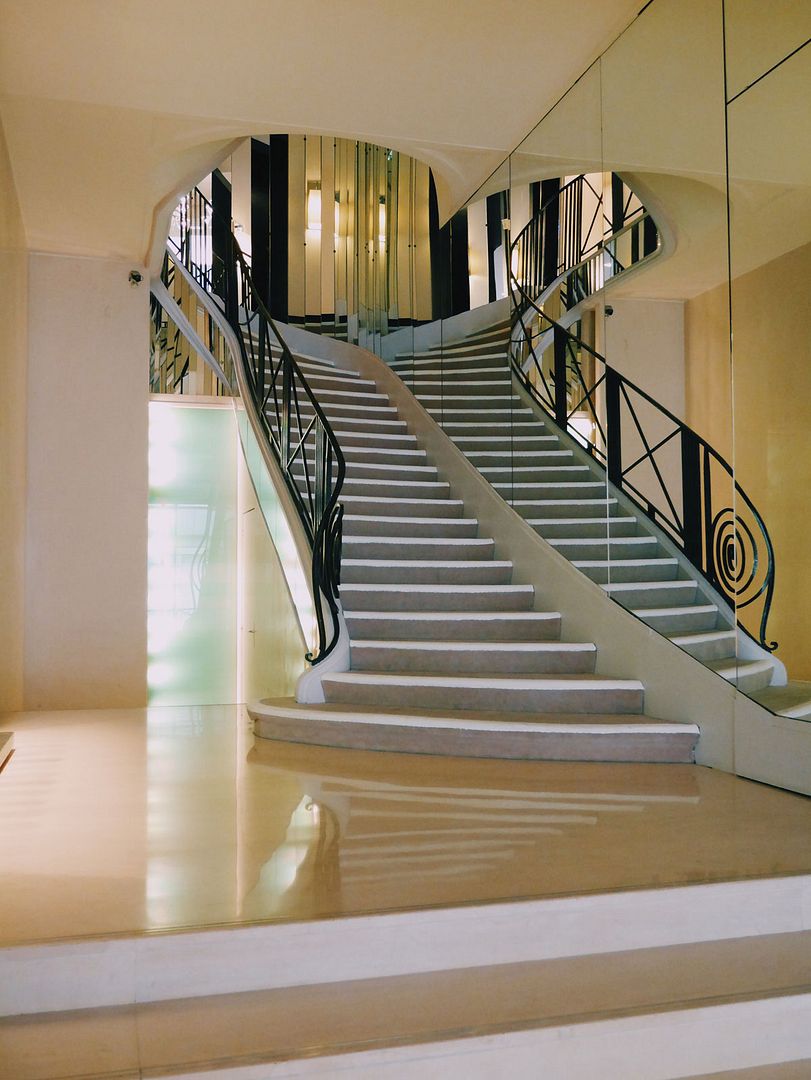 Before I left the lovely doormen let me snap a quick photo in the stairway, if only you were allowed up to see her apartment too (It's strict invitation only to view it up there, but here's some photos, it's completely maintained exactly how Coco lived there).
So, I hope you enjoyed the excited ramblings of someone living their ultimate fashion dream for a day. Oh, and I should probably introduce my baby too (I will probably love this bag more than my first born child)…
The Chanel Jersey Flap Bag with Retro Clasp in Black from the Pre-Fall/Winter 2014 Collection. I've yet to actually see anyone else anywhere with this bag, even online I can't find any coverage of it in black, just all the other colourways, which almost makes it feel more special than if I'd have gone with the ever so popular classic.