For want of seeing more traditional Japan we researched whether a day trip to Kyoto would be possible. After plenty of researching we figure out a day return on the Shinkansen (bullet trains) and advice on the best way to see the city in a day.
A super early start saw us get a JR train (Yamanote Line – ¥170) to Shinagawa where we then headed to the Shinkansen platforms. It's still so satisfying how organised Japanese stations are, you know where exactly to board for your seat before the train even arrives and everyone is waiting in a perfectly formed queue. A 2 hour express Shinkansen to Kyoto set us back ¥28,000, the most expensive thing about our trip but we had allowed for it in our budget. The shiny white train pulls into the platform and is longer than any train I've been on, and wider – the seats are in two rows of 3 with a central aisle, and plenty of leg room between all the seats which also recline. Once the train is moving you really don't notice the speed your travelling, despite being twice as fast as anything we're used to.
The first thing we did arriving in Kyoto Station was exit to the bus station and buy a city bus pass for ¥500, this wasn't something we needed right away but essential for our travelling later in the day.
First off we headed to Saga-Arashiyama (JR train -20 mins) then walked 15 minutes to the Tenryu-Ji Temple. This is known as the main attraction of Arashiyama, with its gardens and zen temple but we didn't spend too much time here. You had to pay extra for the gardens but we decided to move on as other temples on our list appealed to us more.
All the streets round here had plenty of cute little gift shops, and five minutes down the road from the temple you will find the entry to Arashiyama Bamboo Grove. A long winding pathway through a forest of towering bamboo, you truly feel like your transported to another world. There is a small shrine in the middle and paths leading off to a number of other temples.
We took the JR back to the main station (after getting quite lost trying to find the JR station) before hopping on a bus from A1 out front for 30 minutes to Ginkaku-Ji Temple.
Ginkaku-Ji Temple, also known as the 'Silver Pavilion', was a lot more impressive that Tenryu-Ji Temple. A ¥500 entry fee is more than worth it, the grounds were stunning. You follow a path to an immaculately kept dry sand garden known as Moon Viewing Platform then an adorable moss garden before climbing into the hills and being rewarded with an incredible view of the surrounding area.
On the way back down the route takes you for a closer look at the Silver Pavilion from across a pond (great little photo op).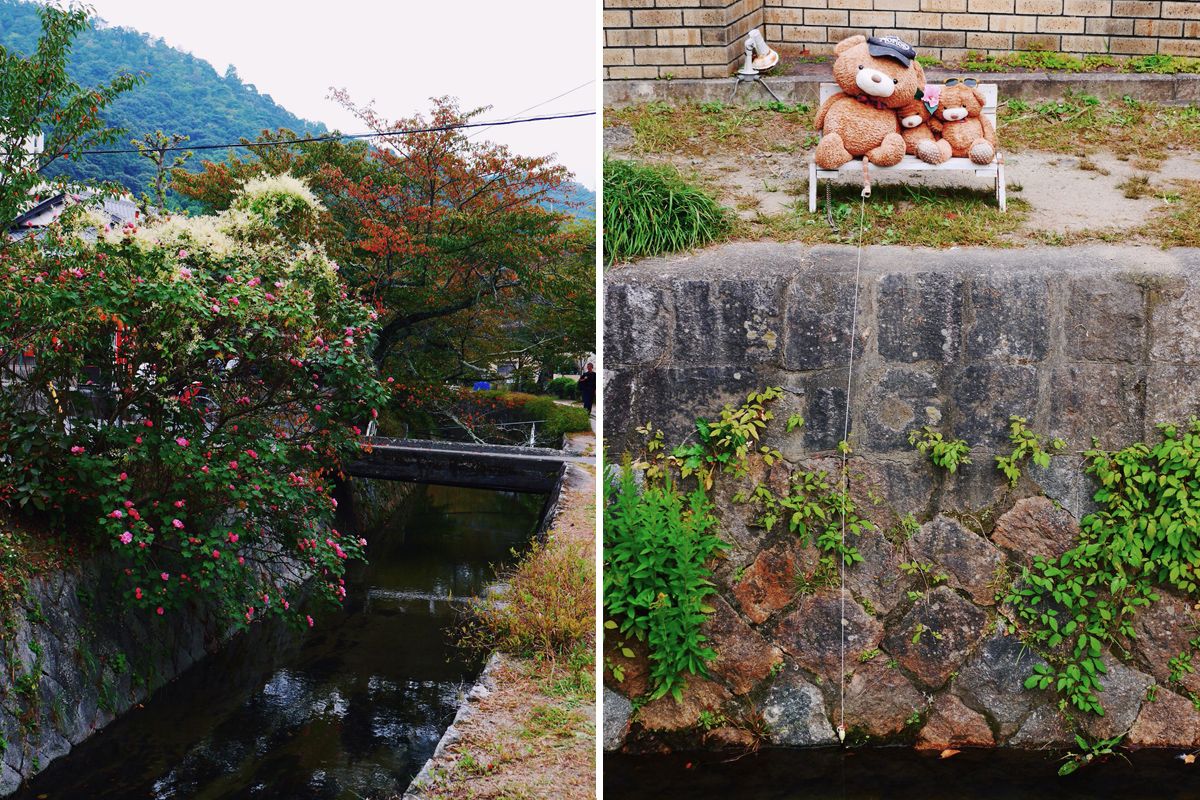 Mooching through gift shops whilst enjoying grape ice cream we have a stroll down Philosophers Path. Given we were pushed for time we only walked a little while down here before turning on ourselves and heading back to the bus stop, not before dying over how cute this little teddy bear family is.
The Higashiyama District was everything I had imagined of Kyoto. We were greeted by loads of girls dressed in traditional kimonos and yukatas thanks to the numerous rental shops along the main road.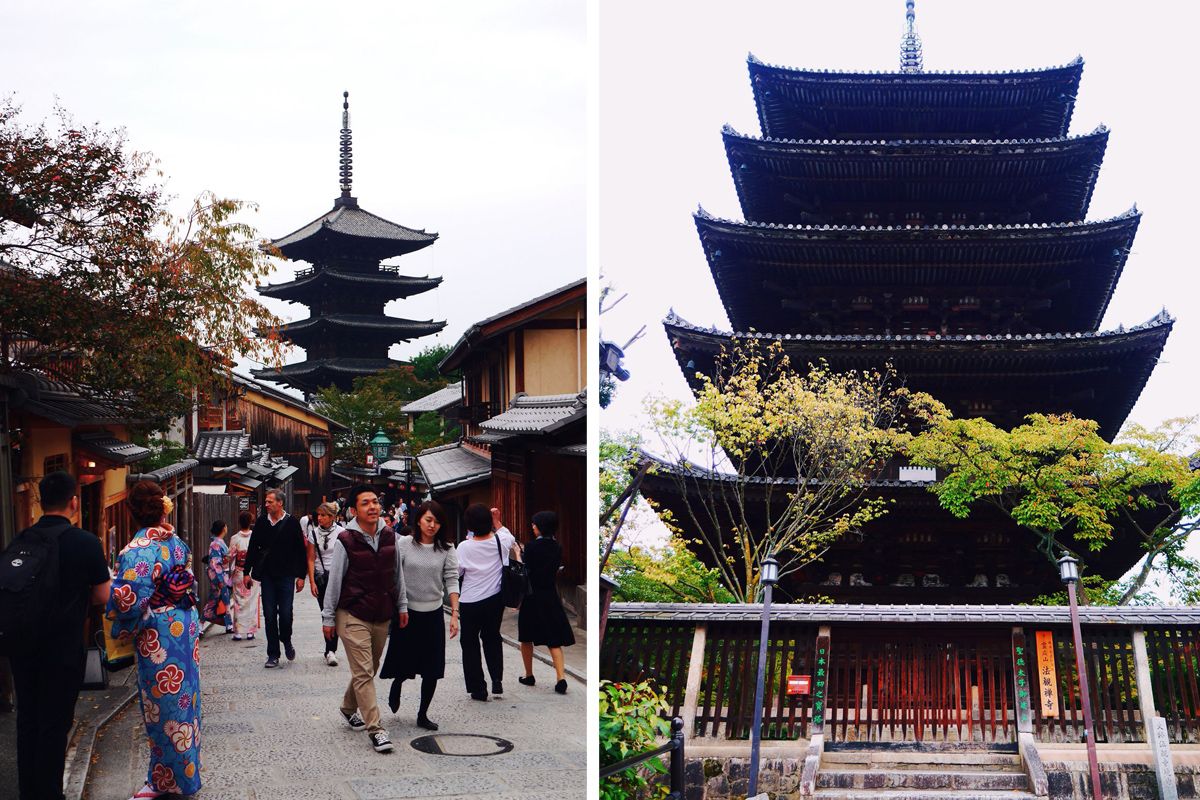 We walk up from the street towards the Yasaka Pagoda then continue to the Ninenzaka Steps. As one of the best preserved historic districts, you really feel like you enter another world along these little streets, especially after a week of being in hustle and bustle of Tokyo.
The traditional buildings are home to numerous cafes and the cutest gift and handmade craft shops. Down a little side street we also found a huge Studio Ghibli licensed shop and a Hello Kitty themed cafe.
After grabbing a quick bento box we set off to our last destination on our wishlist, and the place we were most excited to see, the Fushimi-Inari-Taisha Shrine. Another short bus journey followed by a 25 minute walk as the sunset we arrived at the Shrine at night… which I highly recommend.
At the gate you are greeted by hundreds of lanterns to the shrine. This shrine is dedicated to an 8th century god of rice and sake and foxes were seen as his messenger and this was represented around the shrines.
The key attraction here is the walk through over 5000 bright orange torii gates through the hills. At night you don't seem to pass too many people doing this walk and it's quite dimly lit with grasshoppers serenading you, giving it quite a mysterious feel. Sadly we didn't have time to do the whole hike as we had to be back in time for our Shinkansen back to Tokyo.
Thankfully a JR station is over the road from the Shrine entrance which takes you back to Kyoto Station. Needless to say we were pretty exhausted on the train home… we checked our iPhone step counter and we'd walked 76 miles in the last week.